Product Summary
The ATA5824 is a highly integrated UHF ASK/FSK multi-channel half-duplex and full-duplex transceiver with low power consumption supplied in a small 7 mm × 7 mm QFN48 package. The ATA5824 is built as a fully integrated low-IF receiver, whereas direct PLL modulation with the fractional-N synthesizer is used for FSK transmission and switching of the power amplifier for ASK transmission. The additional full-duplex mode makes relay attacks much more difficult, since the attacker has to receive and transmit signals on the same frequency at the same time. Applications are (1)automotive keyless entry and passive entry go (handsfree car access); (2)tire pressure monitoring systems; (3)remote control systems; (4)alarm and telemetering systems; (5)energy metering; (6)home automation.
Parametrics
ATA5824 absolute maximum ratings: (1)Junction temperature Tj: 150 °C; (2)Storage temperature Tstg: –55 to +125 °C; (3)Ambient temperature Tamb: –40 to +105 °C; (4)Supply voltage VS2 VMaxVS2: –0.3 to +7.2 V; (5)Supply voltage VS1 VMaxVS1: –0.3 to +4 V; (6)Supply voltage VSINT VMaxVSINT: –0.3 to +5.5 V; (7)ESD (Human Body Model ESD S.5.1)every pin HBM: –2.5 to +2.5 kV; (8)ESD (Machine Model JEDEC A115A)every pin MM: –200 to +200 V; (9)ESD (Field Induced Charge Device Model ESD STM 5.3.1-1999)every pin FCDM: –500 to 500 V; (10)Maximum input level, input matched to 50Ω Pin_max: 10 dBm.
Features
ATA5824 features: (1)Full-duplex Operation Mode without Duplex Frequency Offset to Prevent the Relay Attack against Passive Entry Go (PEG)Systems; (2)High FSK Sensitivity: –105.5 dBm at 20 kBaud/–109 dBm at 2.4 kBaud (433.92 MHz); (3)High ASK Sensitivity: –111.5 dBm at 10 kBaud/–116 dBm at 2.4 kBaud (100% ASK, Carrier Level 433.92 MHz); (4)Low Supply Current: 10.5 mA in RX and TX Mode (3V/TX with 5 dBm/433.92 MHz); (5)Data Rate 1 to 20 kBaud Manchester FSK, 1 to 10 kBaud Manchester ASK; (6)ASK/FSK Receiver Uses a Low IF Architecture with High Selectivity, Blocking and Low Intermodulation (Typical 3 dB Blocking 55.5 dBC at ±750 kHz/60.5 dBC at ±1.5 MHz and 67 dBC at ±10 MHz, System I1dBCP = –30 dBm/System IIP3 = –20 dBm); (7)Wide Bandwidth AGC to Handle Large Outband Blockers above the System I1dBCP; (8)226 kHz IF (Intermediate Frequency)with 30 dB Image Rejection and 220 kHz System Bandwidth to Support TPM Transmitters using ATA5756/ATA5757 Transmitters with Standard Crystals; (9)Transmitter Uses Closed Loop FSK Modulation with Fractional-N Synthesizer with High PLL Bandwidth and an Excellent Isolation between PLL and PA; (10)Tolerances of XTAL Compensated by Fractional-N Synthesizer with 800 Hz RF Resolution; (11)Integrated RX/TX-Switch, Single-ended RF Input and Output; (12)RSSI (Received Signal Strength Indicator); (13)Communication to Microcontroller with SPI Interface Working at 500 kBit/s Maximum; (14)Configurable Self Polling and RX/TX Protocol Handling with FIFO-RAM Buffering of; (15)Received and Transmitted Data; (16)1 Push Button Input and 1 Wake-up Input are Active in Power-down Mode; (17)Integrated XTAL Capacitors; (18)PA Efficiency: up to 38% (433.92 MHz/10 dBm/3V).
Diagrams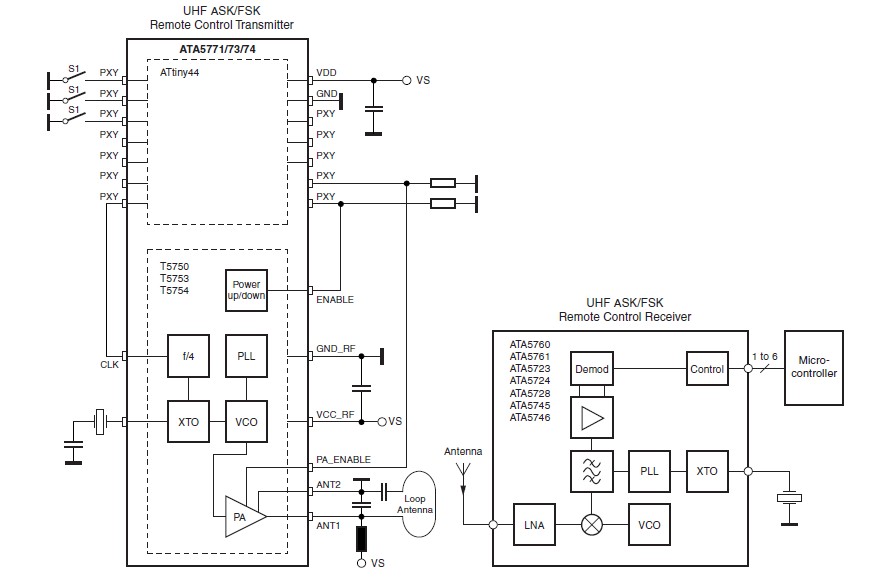 Image
Part No
Mfg
Description
Pricing
(USD)
Quantity

ATA5824C-PLQW

Atmel

RF Transceiver RF DATA Cntrl Duplex Trnscvr

Data Sheet



ATA5824-PLQW

Atmel

RF Transceiver RF DATA CONTROL Duplex Transceiver

Data Sheet

Negotiable

ATA5824-PLQW80

Atmel

RF Transceiver RF Data Control Duplex Trans.

Data Sheet



ATA5824-PLQW 80



IC TXRX UHF ASK/FSK 48QFN

Data Sheet



| | |
| --- | --- |
| 0-1: | $5.81 |
| 1-25: | $4.86 |
| 25-100: | $3.92 |
| 100-1000: | $3.59 |