Product Summary
The CY7C1061AV33-10ZXI is a high performance CMOS Static RAM organized as 1,048,576 words by 16 bits. The input/output pins (IO0 through IO15) are placed in a high-impedance state when the CY7C1061AV33-10ZXI is deselected (CE1 HIGH/CE2 LOW), the outputs are disabled (OE HIGH), the BHE and BLE are disabled (BHE, BLE HIGH), or a Write operation is in progress (CE1 LOW, CE2 HIGH, and WE LOW).
Parametrics
CY7C1061AV33-10ZXI absolute maximum ratings: (1)Storage Temperature : –65°C to +150°C; (2)Ambient Temperature with Power Applied: –55°C to +125°C; (3)Supply Voltage on VCC to Relative GND [3] : –0.5V to +4.6V; (4)DC Voltage Applied to Outputs in High-Z State [3] : –0.5V to VCC + 0.5V, DC Input Voltage [3] : –0.5V to VCC + 0.5V; (5)Current into Outputs (LOW): 20 mA.

Features
CY7C1061AV33-10ZXI features: (1)High speed: tAA = 10 ns; (2)Low active power: 990 mW (max); (3)Operating voltages of 3.3 ± 0.3V; (4)2.0V data retention; (5)Automatic power down when deselected; (6)TTL compatible inputs and outputs; (7)Easy memory expansion with CE1 and CE2 features; (8)Available in Pb-free and non Pb-free 54-pin TSOP II package and non Pb-free 60-ball fine pitch ball grid array (FBGA)package.


Diagrams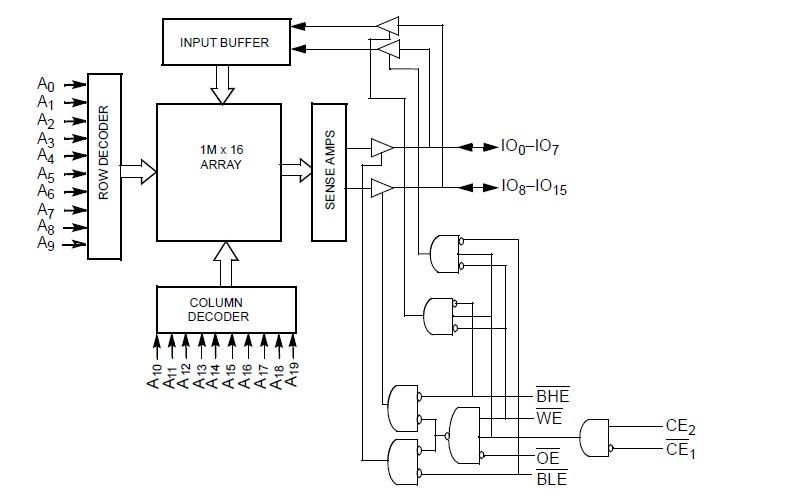 Image
Part No
Mfg
Description
Pricing
(USD)
Quantity

CY7C1061AV33-10ZXI

Cypress Semiconductor

SRAM 1M x 16 CPG IND Fast Async SRAM

Data Sheet



| | |
| --- | --- |
| 0-1: | $17.82 |
| 1-25: | $16.63 |
| 25-50: | $16.04 |
| 50-100: | $15.44 |


CY7C1061AV33-10ZXIT

Cypress Semiconductor

SRAM 1M x 16 CPG IND Fast Async SRAM

Data Sheet



| | |
| --- | --- |
| 0-753: | $15.83 |
| 753-1000: | $15.19 |