Product Summary
The ATA5773 is a single key fob IC containing the AVR microcontroller ATtiny44V and the UHF PLL transmitters T5750/53/54 build-up using a stacked die technique supplied in a QFN24 5 mm x 5 mm package. The ATA5773 has been specially developed for the demands of RF low-cost data transmission systems with data rates of up to 32 kBit/s. Its main applications are in the areas of Remote Keyless- Entry (RKE), Passive Entry Go (PEG), and Remote Start. The ATA5773 can be used in the frequency range of f0 = 310 MHz to 350 MHz, f0 = 429 MHz to 439 MHz or f0 = 868 MHz to 928 MHz for ASK or FSK data transmission.
Parametrics
ATA5773 absolute maximum ratings: (1)Supply voltage VS: 5 V; (2)Power dissipation Ptot: 100 mW; (3)Junction temperature Tj: 150 °C; (4)Storage temperature Tstg: –55 to 125 °C; (5)Ambient temperature Tamb: –55 to 125 °C; (6)Input voltage VmaxPA_ENABLE: –0.3 to (VS + 0.3)(1)V; (7)Frequency range of VCO fVCO: 868 to 928 MHz.

Features
ATA5773 features: (1)Automotive Qualified; (2)Temperature Range –40° C to +85°C; (3)ESD Protection: HBM 2500V, MM 100V, CDM 1000V; (4)Supply voltage 2.0V to 4.0V for Single Li-cell Power Supply; (5)Low Power Consumption; (6)Modulation Scheme ASK/FSK; (7)Integrated PLL Loop Filter; (8)High Output Power (8 dBm at 315 MHz/7.5 dBm at 433 MHz/ 5.5 dBm at 868 MHz); (9)High Performance, Low Power AVR 8-bit Microcontroller; (10)Advanced RISC Architecture; (11)Non-volatile Program and Data Memories.
Diagrams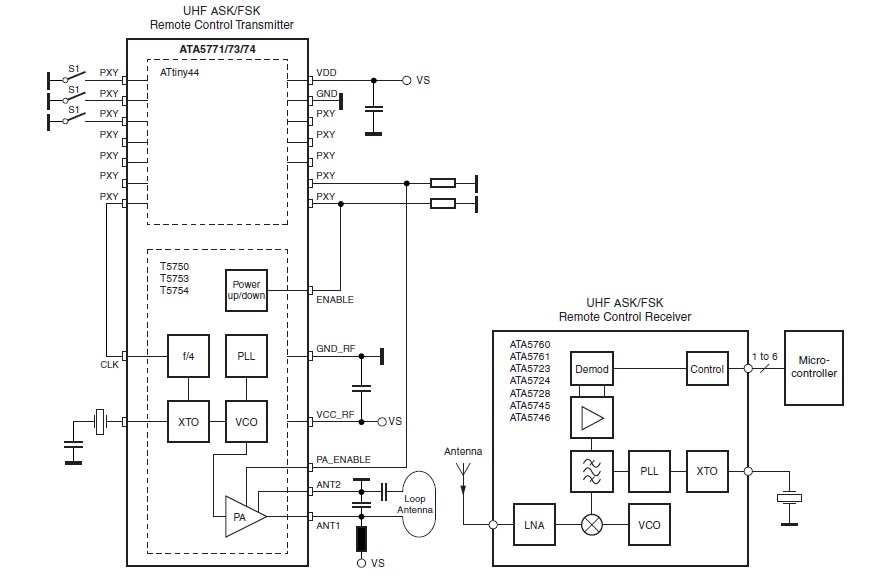 Image
Part No
Mfg
Description
Pricing
(USD)
Quantity

ATA5773C-PXQW

Atmel

RF Microcontrollers (MCU) Embedded C incl RF Tx for 315 MHz

Data Sheet



ATA5773-DK1

Atmel

Development Boards & Kits - Wireless Transmitter Board for ATA5773 315MHz

Data Sheet



ATA5773-PXQW

Atmel

RF Microcontrollers (MCU) XMITTER UHF ASK/FSK 310MHZ

Data Sheet

Negotiable